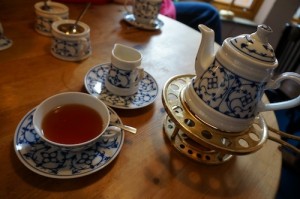 Situated in the colourful, crooked, toy-town-like streets of Bremen's Schnoor district, the Teestübchen (translated: "little tea parlour") is the perfect place to while away an afternoon over many cups of tea, hidden away from the bustle of everyday life. When you enter the pointed little half-timbered house you first come into a shop which sells delicious teas and beautiful crockery. A narrow wooden staircase leads up to the cosy, intimate little tea room above. The room is tastefully furnished with simple, sturdy wooden tables and chairs, there are flowers and candles on the tables and the walls are decorated with pictures by Hundertwasser and local Expressionist painter Paula Modersohn-Becker. A second, even narrower staircase takes you to the second tea room, even smaller than the first. The menu is a tea drinkers paradise: pages and pages of beautifully scented teas in all imaginable flavours!
For non-tea drinkers: the hot chocolate is quite something too!
Teas are served in pretty, very nordic blue and white tea pots that yield an astonishing number of cups. Maybe they are enchanted – I wouldn't be surprised in that fairy-tale-like little house!