An unashamed display of fin-de-siècle decadence and splendour, the Café Central in Vienna is more than just a place to have cake – it is a temple to the art of idleness!
One of my ambitions in life is to be known by name by the headwaiter – the closest I've come is a "nice to see you again, madam" – admittedly, it was my third visit in one week.The waiters at Café Central are uncharacteristically friendly (in Vienna, it is almost a job requirement for waiters to be grumpy) and treat you with a genteel, yet charming dignity. In the evenings there is live piano music, a soft melange of operettas, waltzes and the odd musical tune. If you sit in Café Central for a few hours, you can almost forget that there is a 21st century world out there…
But it's not just about the ambience – Café Central has some of the most amazing cake creations I've ever tasted!
Usually, Viennese food tends to be big and chunky (not that there's anything wrong with that), but the cakes at Café Central are masterpieces of elegance. The flavour combinations are sometimes unusual, but always stunning. Many of the cakes are unique Café Central creations and the selection varies from month to month so that there are aways new pieces of perfection to discover.
The café also serves full meals, equally elegant and delicious. I am not a coffee drinker, but for those of you who are, it is worth mentioning that Café Central has over fifteen different coffee specialities, with special twists ranging from liquors and rum to chocolate and cream.
Café Central has published a beautiful book called "Café Central – Viennese culinary culture then and now" which is full of anecdotes and recipes.
You can visit Café Central's website for more information: http://www.palaisevents.at/en/cafecentral.html
And you can go on a virtual tour of the café here: http://www.palaisevents.at/fileadmin/tour/english/cafe/flash/index.html

Himbeer-Harmonie, a melt-in-the-mouth combination of tangy raspberry and deep dark chocolate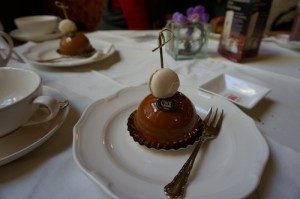 Absolute Haselnuss, a dome of haselnut and caramel perfection, with a surprise lemon centre!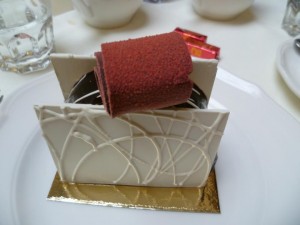 Buche de Noel, a dream of a chocolate roulade!

Klimt Surprise, caramel and coffee delight!